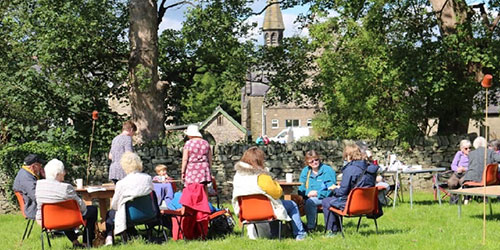 Chapel-en-le-Frith Methodist Church
Chapel-en-le-Frith discover John Wesley links to community garden through Methodist Grants programme funding.
Chapel-en-le-Frith Methodist Church is in a small town in the Peak District National Park. It is a beautiful place, with close connections to nature and the landscape that surrounds it.
In July 2019, a grant of £4,000 helped Chapel-en-le-Frith towards the establishment of the Townend Community Garden in a field purchased by the church in 1960. 
It's early days yet, but the turf has gone, raised beds created and planting of fruit trees from seeds shared and grown by volunteers has begun. There is a corner planned as a sensory garden for reflection, prayer and tranquillity. 
Mary Craner, Project Coordinator, said: "The grant will go a long way to funding the construction of a low wall, which will provide seating around a communal area in the garden."
An unexpected find has emerged as a result of looking into the history of Chapel-en-le-Frith Methodist Church. John Wesley preached in a field in Chapel-en-le-Frith in 1785 and we asked Mary if this might be the same field that was now becoming the Townend Community Garden?
She tracked down a copy of a leaflet from 1974, A Brief History of the Methodist Church in Chapel-en-le-Frith, which states: "the history of Methodism in Chapel-en-le-Frith goes back to John Wesley's first recorded visit to the area on 28 May 1745. This was the famous occasion when the miller at Mill Town, where Wesley was preaching in the open air, tried, unsuccessfully to drown Wesley's voice by opening the sluice of the mill pond. John Wesley's journal records that by the time of his subsequent visit in 1782, a chapel had been built." 
Mary continued: "John Wesley was certainly preaching very close to the site of our new Garden. It's not the same field, but to discover he preached in the open air so nearby is wonderful! Maybe we should be telling this history on a storyboard in the Garden?"
The Townend Community Garden will be open to all those who wish to use it and provides a new venue for community gatherings, worship, gardening and a place for friendships to grow.