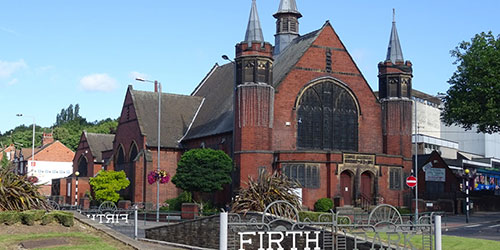 Firth Park Methodist Church
Building social cohesion in Sheffield's deprived urban areas
Firth Park in central Sheffield is one of the poorest inner-city areas in the UK. It has a population of 22,000 with a disproportionate number of young people and children,
35% of whom receive free school meals
. 
Firth Park Methodist Church is the only Christian presence in a ward that suffers real deprivation and is in desperate need of resources to increase social cohesion between people of different ages, cultures and faiths. 
Reverend Mark Goodhand arrived as Minister in 2008 to find the 400-seat, Grade II listed church building in a state of disrepair and Firth Park in real need of hope and love. He said: "We had to do something. And asking the community what they needed was a huge part of what we needed to do. As we got to know and understand our community, they got to know and trust us. The one thing that consistently emerged was that Firth Park needed safe, affordable places for young children to go with parents, grandparents or carers, who also needed to feel comfortable and welcome."
Grant of £25,000 helps build a 'new' community where all are welcome
The Firth Park project involved major works to repair and reconfigure the church building into a modern worship and community space, including a permanent soft-play area and café. 'Sam's Space' opened in February 2020 and, with a new Soft Play Development Worker (combining management with pastoral care), the church is increasingly integrating worship and community care. 
The church's two congregations (one traditionally Methodist, the other an African Family Worship Centre congregation), are now increasingly working together to meet other needs in the community, not least the challenge of mental health.
A welcome, caring and comfortable space for everyone
"What we've discovered," said Reverend Goodhand, "is that you can sustain a Christian presence in a highly diverse inner-city location, but you can't just be a traditional church in an old building, doing what you've always done. The vision is that we're not known as a building at all, but as a community of communities underpinned by the God of love who says all are welcome, no exceptions."
Grants Officer, Paul Playford, from Benefact Trust, who run the Methodist Grants programme, said: "It's clear that Firth Park is where some of the most vulnerable people in our society live. This project has given the church resources it needed to invest love, care and faith into a community starved of hope. We're extremely proud to support their vision to become a reality."